I recently bought an old Curtis compressor (1937 vintage, I believe), and am in the process of cleaning it up. It was in service at a local repair shop from about 1938 up until last January, and the thing has about an inch of crud all over it that I'm cleaning off.
When I got around to the back side, and pulled the big fly-wheel, there was a lot of dampness around the crank shaft. Cleaned some of that up, and I could see that there was air sucking (and blowing) in and out around the shaft when I turned it by hand. I've never taken one of these apart, but I did find some good patent illustrations which show how the crank shaft is lubricated but I do not see how the shaft is sealed.
The crank shaft itself has no play in it that I can detect, and the whole thing turns over nice and smooth. It's got clean oil in it, too.
So I've got a couple of questions for you guys:
Is it normal for these compressors to leak around the crank shaft?
Does it take a seal, and if so, where could I get one? Can I make one? (My shaft is 1 3/8" diameter.)
Is there a rebuild kit available for this beast?
It looks like it would be easy to put a new seal in there, but is anyone aware of any tricks/quirks?
What qualifies as "good cylinder oil" these days?
Here's a picture of the plate attached to the front of the compressor: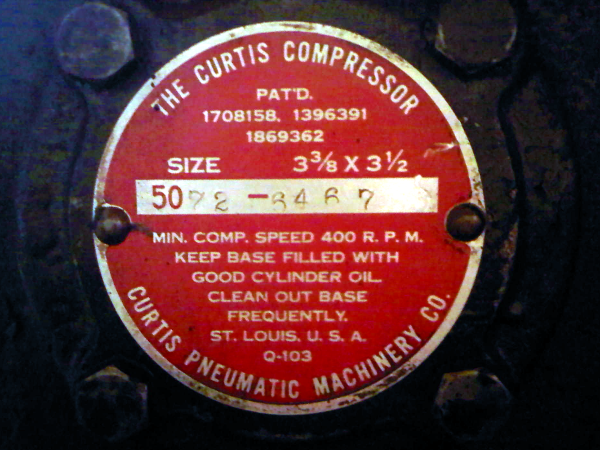 And here's a picture of the whole thing: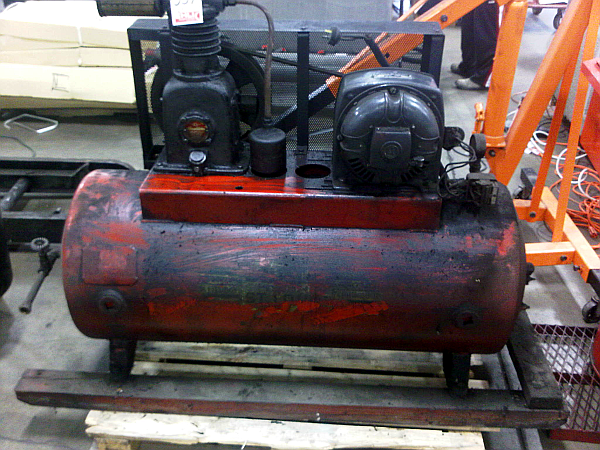 Any help you guys can provide would be sincerely appreciated.
JC