Hi SmokStak,
I am new here. I am located in Huntington, NY, USA. I will be 21yrs old this coming October. I have had a passion for building engines since I was about 8 yrs old. I have rebuilt a number of small Briggs and Stratton, Tecumseh, Kohler and Generac engines. I used my engine repairing skills to harvest up a fleet of discarded lawn equipment which I repaired/repowered. I started my own neighborhood landscaping business at the age of 12, and by the time I was in high school, my brothers and I pushed all of the commercial landscapers out of the area.
Anyways, in our fleet, we have two restored cub cadet lawn tractors Model 100/125, 9 push mowers, 3 drive mowers, two backpack blowers, a walk behind blower, homemade leaf vac, etc.
In my free time, I build all kinds of crazy equipment, including a biodiesel powered scooter, a scooter which goes 55mph out of my moms ironing board, the leaf vacuum mentioned above, a helicopter out of a lawnmower (which unfortunately didnt work), etc.
I currently go to college at Rensselaer Polytechnic Institute, in Troy, NY.
I am a 4th year architecture student.
After 2 years in school, I decided that I needed to build something really special. So, I jumped online and started researching how I could repower a vehicle. One step led to another, and I was off looking for Cummins, Cat and Deutz engines. In my search, I just didnt find anything that I liked.
Then I met a fellow by the name of Jim on 4btswaps, who was into Detroit Diesels. I met him at his house, and it was a life-changing event. It was the first diesel I really enjoyed. Simple, reliable and it sounded amazing. After comparing a 3 cylinder Detroit to the 3 cylinder briggs diesels I have been accustomed to, I realized that it would be a task to get one of these into a small vehicle.
So my search continued, this time with a goal, to find another Detroit Diesel.
I found one on craigslist, back in October of 2009. I ran the idea by my dad, and I got an instant response... NO.
Well, one day my dad said, you can get the engine if you make something to hold it safely in the garage. My dad was just braking my chops on this, until I surprised him on Thanksgiving when I came home with I-Beams, and Square steel all bolted and welded up into an engine cart with heavy duty casters.
Needless to say, that Christmas break, the engine came home with me.
I bought an 1800lb 6V53T out of a Sheridan Tank.
318 cubic inch, 320-350horsepower....
I started rebuilding it to only find that the seller was a complete liar. He sold me a block of junk. After knowing what I know now, this wasnt the first time he scammed someone.
He knew all of the right tricks:
keeping the engine outside, digging it partially in the ground to make it look like it was on the aluminum cradle that an APC normally has, cleaned the inside of the air box covers to make it look new, restamped the rebuild tags with false information, he broke pieces here and there to make sure he couldnt test that it worked, and setting up a time when we could only load it late at night (only to find out later that he worked for the town leaving work at 4pm, not 10pm in his made up job)
Anyways, so the naive part of me made a big mistake as I later learned. I figured that with the extent of the damage it wouldnt be too hard to repair.
One thing turned into another, I replaced the oil pan to find that the crankcase gears were completely stripped, mismatching pistons, mismatching camshafts, two cracked heads, contaminated and water destroyed oil coolers, turbo pistons with natural liners, natural blower on turbo block, etc.
Anyhow, I rebuilt the whole engine piece by piece.
It has been barely more than 9 months, and the engine is all back together with 6 new matching 18.7:1 pistons, new turbocharged liners, two matching high performance V7L cams, two new (rebuilt/resurfaced) low lift turbocharged silver series heads, two new 18 plate oil coolers, new crankcase gears, new flywheel housing, all new cam/connecting rod/main bearings, polished crankshaft, new filters, hosing, rebuild turbocharger, etc.
All of the parts cleaned/rebuilt myself
For being as young as I am, I shouldnt be doing the things which I do, but I love a challenge, and I love to learn.
After being scammed the first time, I made sure to study the hell out of anything before I purchased it.
Back in June I landed a deal on $3500 of parts which I picked up at scrap value. (starter, flywheel, air compressor, power steering pump, alternator, etc)
I now have $4K into my engine, and it should be good for 500,000 miles.
I have removed the superfluous military junk, and transformed it into a truck engine.
One day it will have an Eaton Fuller 10 speed overdrive, or 13 speed double overdrive behind it, and it will be screaming in either a 2 ton GMC 6500/Chevy C60/70, or a 1960 F500/F600
Thats enough for now,
the pictures can say the rest: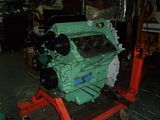 I have learned alot about 2-cycle Detroits, so I will offer any advice I can to those in need.
Christopher Kouttron