Hi all!
I don't have much to add at this point, but I want to try to keep this post updated as I progress with this project.
I did disassemble and clean up the valve covers recently. I have a question about them. What do you guys use for the breather material in the valve cover? Originally it was horse hair, and mine was still that. Boy was it gross. Cut a piece of air cleaner foam material to put in there?
I also acquired a few more parts that I have been looking for. I got a magneto, a front hubcap, some valve train parts, and primer cups from Briewers Tractor Salvage, Thanks Gary!
I went up to the Makoti, ND threshing show on Oct 3rd and checked out the 1927 20-35 they have at the showgrounds. I really was hoping to talk with someone about this tractor, but from what I heard this tractor has not been out of the barn in several years unfortunately, and no one was around
I did spend a good deal of time looking at all of its little details, and measuring up some parts that I need to fabricate for my tractor. This tractor is earlier than mine, and all of the little bits that are different on '27's (or that I speculate are '27 features) are constant with what I have found, so that makes more proof of things. I also took a bunch of pics
http://s293.photobucket.com/user/pic...?sort=3&page=1
Now I can fab some of the little things I am missing like the hand crank holding wire, the air cleaner pipe, and the radiator choke rod bracket.
I am still on the hunt for a throttle quadrant like this if anyone has any leads?
Also, if by some chance someone has an exhaust manifold like this one, I'd be very interested. From what we can gather, only the '27's had this manifold with the ears on the top where the muffler pipe goes. It was a dumb design, and you can imagine why they changed it (broken ears from over tightening the cast to try to tighten up to the exhaust pipe).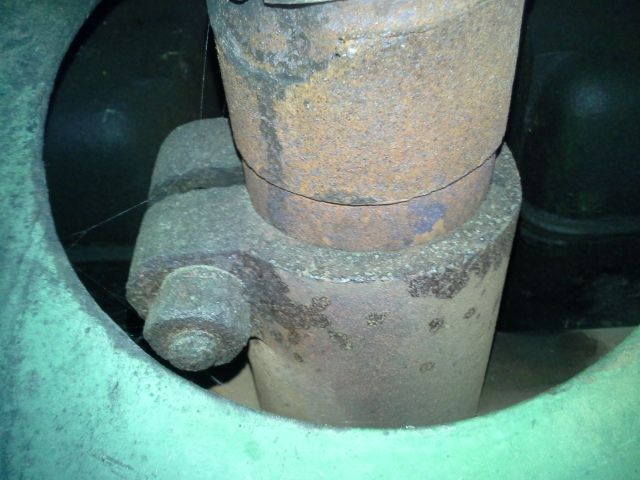 Does anyone know if hose clamps like this are being reproduced? They are brass, and not just the typical strap type, they are more fancy. My tractor, this tractor, and Tony Tompson's (all '27's) all had this type of hose clamp. I know it's a shot in the dark, but would anyone have any good used ones they would be willing to sell me? Mine are all broken.
Thanks for all the info, I'll keep everyone posted on my progress!