How do we fit our sleeve installations? We first ruff bore a plated cylinder +.250" larger than the std. bore diameter. This will net the final sleeve thickness of 1mm after the cylinder has been over bored another 2mm oversize. The final sleeve thickness is rather thin but necessary to ensure proper function of any power valve installations. This is the general oversize of sleeve in a 2 stroke bore; we've got an Excel spread sheet programmed to produce bore consistency.
Next the new cylinder sleeve is ruff turned to +.010" larger than the aluminum cylinder. With the new sleeve +.010" larger than your cylinder bore; the aluminum cylinder is finally precession honed to the new sleeve press fit. I use this system of fitting the new sleeve as it helps greatly if making a mistake fit.
With all of these dimensions flying around in every direction; it's necessary for the engine builder to have a thorough knowledge of arithmetic & geometry. Have a few hand calculators in your shop for handy instant access. Remember that 4"/ .03937 = 101.6mm, the conversion factor from inches to millimeters.
After the cylinder is heated, the new sleeve is lowered & alined. A light press is applied to the top of the sleeve to make sure it's bedded in place.
After the final bore is completed, off to the cylinder hone. We use a Sunnen connecting rod hone as it gives the best control of cylinder sizing. Yes; you need the proper piston skirt clearance, but as of the clearance the cylinder must also be round & straight. Squaring with the bore is best accomplished by mounting a cylinder upside down. (More on this in other sections)
I use a double stone three point connecting rod mandrel for cylinders under 2-1/2" in bore diameter. Above 2-1/2" a double stone "AN" type of mandrel is used. Both of these mandrels render a smooth round & straight bore when used by a skilled operator.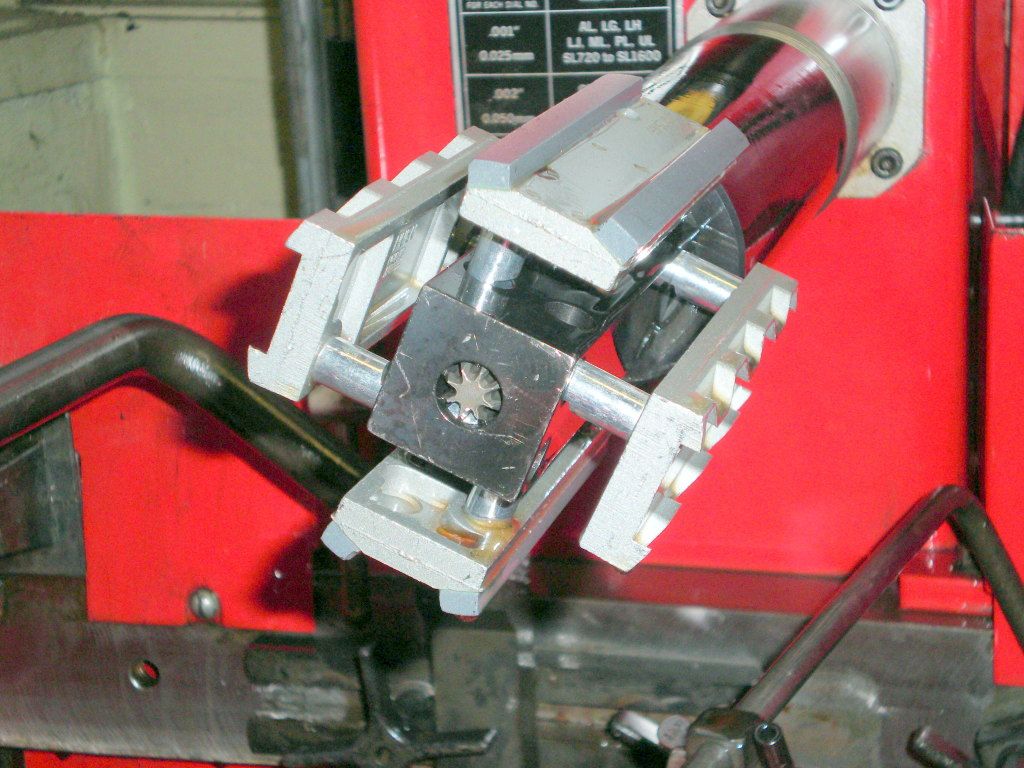 Large hone type "AN" head for bores larger tan 2-1/2"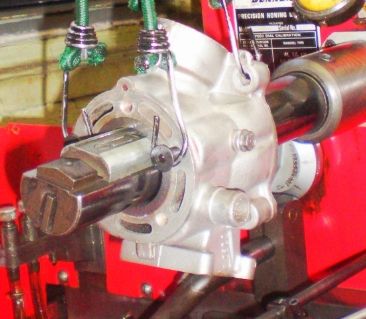 Smaller 3 point mandrel used for cylinders less than 2-1/2".
You may notice the cylinder hanging by a couple of Bungee cords. With my bad back as many of us suffer from; the cylinders are hanging from the ceiling which enables the cylinder to be flipped from end to end, taper control & easy measurements.
(Other types of honing equipment are noted in another section.)
Back to the Skirt clearances; I use the resources of Wiesco piston who has a cycle engine mounted on a Dyno for testing skirt clearances. Wiesco claims that their forged pistons are machined in such a manner that they need barely more than a zero skirt clearance to run without seizing. Granted this is only for testing purposes.
I've found that the recommended skirt clearances which are printed on each Wiesco piston box; works fine for most cast & forged 2 stroke pistons. With the very short skirts on late model 4 stroke engines, it's wise to contact the particular piston manufacturer for clearance advice. Now days both types of pistons are machined to run minimal skirt clearances. After the honing is complete the ports are deburred & the cylinder is rinsed in the parts washer. The measuring tools are rechecked for accuracy; the skirt clearance is double checked, the piston is fit, top & bottom of the cylinder. Any discrepancy in accuracy can be corrected before the job is delivered.
Cast or forged pistons; sleeved or plated bores, when we hone the final skirt clearance; I most always add +.0005" to the recommended fits. With this slight addition to the clearance; I maintain that both types of cylinders each have close to the same heat dissipation rate.
You're comments & criticism is more than welcome; we all learn together.
John Tice
503-593-2908 Alternate 541-508-3944
www.smallenginemachineworks.com & www.nwsleeve.com
Turning Custom Cylinder Sleeves Since 1971
http://forums.everything2stroke.com/...d-the-Shop.com