After I shut the engine down on Bertha, I went in the house for lunch and take a short break. The next video is my first attempts in making this thing move. Try not to laugh too much, I didn't know shift pattern. Had to run through all positions and make sure I didn't run over my brush hog trying to find reverse.
Towards the end of the video I stopped the tractor and it decided it wanted to shut itself down. Couldn't tell if it was acting like it was starving for fuel or?
Took a few tries but got it cranked back up and put back under cover for the evening.
https://www.youtube.com/watch?v=wMWh...ature=youtu.be
---------- Post added at 09:21 PM ---------- Previous post was at 09:06 PM ----------
Tomorrows list of fixes includes repairing the stripped out hole right behind the radiator cap and getting a new bolt to hold the front of the hood in place.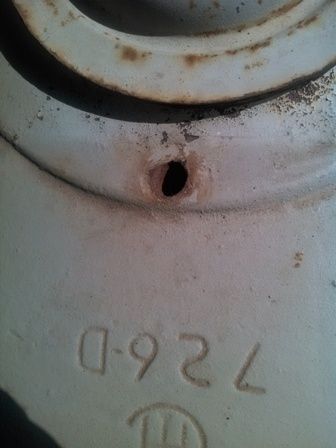 Not mandatory right now but would like to get a new fan belt. This one's missing chunks on the inside.
Of course, recheck valve clearances and install a cover gasket.
I may try to change the oil. Who knows how old the oil is that's in there.
Suggestions on weights? Rotella straight weight oils?
Going to drain what little fuel I put in the tank back out, check fuel lines and shut off valve, then start with some fresh fuel again. I think I loosened a little sediment from the bottom of the fuel tank.
Will be removing the air cleaning assembly and cleaning it out thoroughly.
While I'm at the auto parts store I may as well pick up a few tubes of grease. Looks like a lot of grease zerts on this machine and the joints all need filling.
Can someone tell me what this little valve is for on the piping near the lower radiator hose?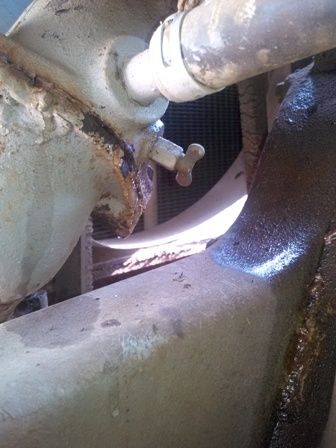 Also, anything significant about the numbers on the casting right behind the radiator cap?
(726-D #1)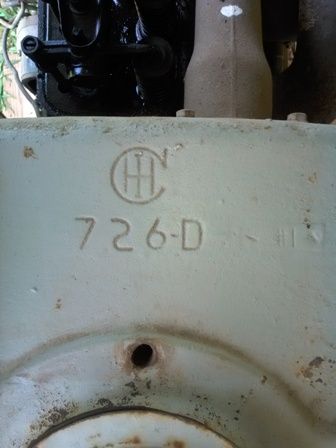 ---------- Post added at 09:27 PM ---------- Previous post was at 09:21 PM ----------
That's all I have for today. Will continue to take photos of any work/progress I'm making on this ole girl. Getting excited with it running. Hoping to put her in the vintage tractor pull this Friday night at Pioneer Days in Eagleville Tennessee.
http://www.eaglevilletvppa.com/
Thanks for all the help guys. I sure have needed the direction with this one.