Quote:
Joe, can you elaborate why small steam engines were maybe a decade behind traction engines, maybe a couple decades behind locomotive, regarding interchangeable parts?
It mostly had to do with volume of production. If you make a handful of units, you won't (or can't) put a lot of money into engineering - the design, the drawings, the production methods to make a consistent component to those drawings.
Later on (say 1876 onwards) manufacturers expanded their markets - but usually did it on the basis of large output - which in turn encouraged the use of interchangeability as a way to speed production and lower unit cost overall.
Until the general adoption of the gasoline (or diesel) engine and grid/electric motors, small engine builders continued to ply their trade. My "Sears Roebuck" engine (circa 1907) would have been among the last of these - this pattern engine was made by at least a half a dozen makers all apparently small producers and working by "reverse engineering" and using the castings of one complete engine to produce another copy. "Kenwood" (below) was just the Sears name as "Craftsman" and "Kenmore" was until recently. Like both of these later, made by different makers at different times, but usually to high standards and quality. And for the Sears steam engine an attempt by one producer or another to market to a wider clientele without paying the engineering overheads.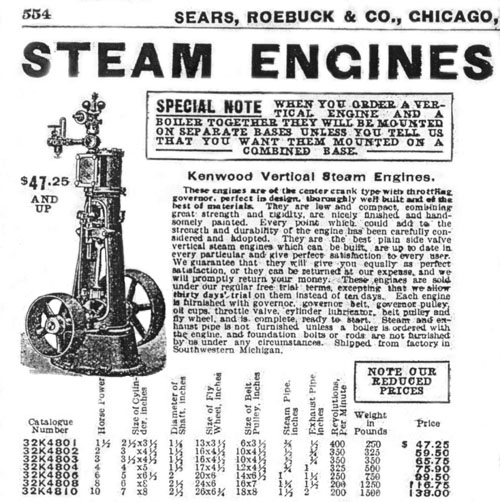 A few exceptions. Troy and Troy-Engberg, also Skinner in the smaller units. These engines made the transition to central station use as stoker and blower engines, or possibly small prime mover engines for laundry, sawmill, print shop use. But they were widely applied, commonly specified by engineering firms who knew their availability and previous success (all engineering tends to build on successes) and by virtue of having been built to interchangeable standards, were relatively cheap and high quality.
Ford, of course, took the engineering to the next level and systematized the assembly in "assembly lines." Ford drawings exist for both the component parts of the Model T and the Model A (These are available to the public at small cost should you wish to duplicate a part) Not so much for the assembly line arrangements which some have conjectured by building models.
But by then steam was certainly outmoded by the gasoline engine and central grid power.