Got a new form of FRAUD as an eBay message. The past five days they (the crooks) sent me a "Daily Status" of my running bids. But the item was done at March 11 so that was strange for me. Than I got this message and when you click the "Click Here line" in the message you will see what they want . Looking to the address it's a German address, when I did an ID check I found 4 or 5 addresses in Germany. Second the address has not the HTTPS in it.
FRAUD...FRAUD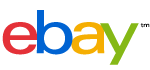 Dear eBay User,
During our regular update and verification of the accounts, we could not verify your current information. Either your information has changed or it is incomplete.
As a result, your access to bid or buy on eBay has been restricted. To start using fully your eBay account, please update and verify your information by clicking the link below :
CLICK HERE TO VERIFY YOUR ACCOUNT
Thank you for your prompt attention to this matter.
Regards,
eBay Inc.