Art of Coppersmithing(A practical Treatise on working sheet copper into all forms)
By: John Fuller Sr
The Astragal Press
Thier web site
Originally copyrigthed©1893
This reprint©1993 trade paperback
ISBN#1-879335-37-9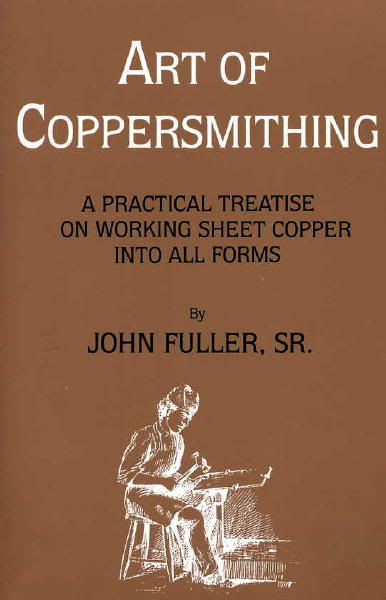 Another great collection of the forget gems of the Tinman and Brazier.
As Mr Fuller started in the biz along with his father when he was 9 thru 15 years of age.
As he came along in the trade and found nothing to aid in teaching the good boys at his side in the book stalls of London. He wrote something.
From the opening chapter
* Historical sketch of copper
* the experience of the years for the boys
* repair and tinning
then each chapter on the item construction
* Then from the washing coppers,hand bowls frying, pans closet pans,water balls tea-kettles
* On to beer mullers,funnels,coffee pots, and assorted sauce pans to fish kettles
continuing on to the household item construction
* Coal scoops ,cranes and syphons
* from pumps, railway and marine items
* making copper pipe, making bends, short, long and double
* And own to brewery and still work
With over 65 chapters on copper work in various pieces,474 illustrations in the old style fine line detail. Over 300 pages and a complete index.It makes a wonderful addition not only for reading to you see how did they do that. But as a historical trade reference or for the metal practitioner to build reproductions today.
Some templates and patterns are shown and how to do them is also covered.
The only caution I will put out here is as food and medical science has progressed. they have found out that copper isn't good for all cooking things as they did in the past.
And for the money this book costs both as an educational information source, and entertainment it is well worth it.
could be at your local branch library